About the Foundation
Vision and Mission
For more than 40 years, the Thomas J. Long Foundation has supported local charitable organizations that provide programs and services to benefit and inspire the people of the communities where we live, work, and play. The Foundation's vision is to build healthy, diverse, vibrant and caring East Bay communities where all residents have the opportunity to thrive. 
The Thomas J. Long Foundation maximizes its impact by investing its resources in the areas of education, services for seniors, services for individuals with disabilities, and the safety net to benefit the most vulnerable residents of Alameda and Contra Costa Counties. 

History
Thomas Jonathon Long was born in 1910 and raised in the tiny California town of Covelo, located in Mendocino County, about 200 miles north of San Francisco. As the son of a local merchant, Tom honed the skills that would one day help him become an early pioneer in the self-service retail drug store industry. After graduating from the University of California, Berkeley in 1932 with a degree in Accounting, Tom spent several years working as an accountant before returning to his merchant roots. In 1938, Tom and his brother, Joe, co-founded the Longs Drug Stores chain in Oakland, California.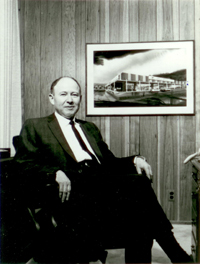 As the business prospered, so did Tom's reputation as a philanthropist. His civic and philanthropic involvement was considerable. Tom was motivated both by service and a deep concern for people. Initially, grants to local charities were made from his own wallet. In 1972 he funded the Thomas J. Long Foundation with $40,000. In its first year, the Foundation awarded four grants totaling $3,000. Upon Tom's death in 1993, the Foundation became fully funded through the bequest of a significant portion of his estate.
Tom's conviction for giving back to the communities that helped him succeed in business is a core value still embraced by the Foundation today. Over the years, the Foundation has grown from a small group of family members to an office staffed with five full-time employees and five trustees.
For many years, Longs Drug Stores used the slogan "A Tradition of Caring." Thomas J. Long embodied a tradition of caring throughout his entire life. In 1991, Tom was honored at the Easter Seals Humanitarian Award dinner for his contributions on behalf of people with disabilities. The following remarks are from then California State Governor Pete Wilson, who deservingly recognized the contributions of Thomas J. Long.
"While many choose to measure their success in terms of personal achievements, it is most noteworthy that your success is highlighted by the numerous endeavors you have undertaken on behalf of others. Throughout the years, being a successful professional in the business realm has not been enough to satisfy you, for you have chosen to enrich the lives of many through your selfless commitment to enhancing the quality of life for citizens throughout the Golden State."
Trustees
Chair
Sidne Long
Vice Chair
Hank Delevati
Secretary
Catherine Fisher
Treasurer
Milton Long
Trustee
Moira Walsh
Staff
Chief Executive Officer
Mark Friedman
Chief Financial Officer
Susan Kodani
VP, Programs
Aimee Sueko Eng
Senior Program Officer
Nancy Shillis
Program Officer
Alison Hsieh